Current Babysits policy regarding Coronavirus
June 2, 2021 - Due to the Coronavirus outbreak, many parents are struggling with childcare. It is not only parents who work as essential service providers who are in need of a babysitter for their children. Parents who work from home and single parents may also find themselves struggling to balance working from home whilst also caring for their children. At Babysits, we want to give our community the best support possible. We are closely monitoring the situation and listening to the advice from the NHS and GOV.uk.
At present, there are different regulations for different areas in the U.K. - read below for specific information on England, Scotland, Wales, and Northern Ireland respectively. Wherever you live, we advise that you exercise caution when returning to babysitting jobs/accepting babysitters into your home. For example, we advise that parents have no more than one regular babysitter. This way, you can limit the number of people in your home and thus limit the risk of potentially spreading the virus.
England:
Restrictions have been eased as England moves into step 3. You can read more about the steps here.
You can now meet in a group of up to 6 people indoors (from any number of households). It should be noted that children of all ages count towards this limit of 6. Or you can meet in a group of any size from up to two households (this can include existing support bubbles - you can find out if your eligble to create a support bubble or childcare bubble
The government of course still advises you to consider your distance, limit your number of journeys where possible, and to follow the stay at home guidance if you show symtpoms, etc.
All childcare (incl. childminders, wraparound care, etc.) and supervised activities are allowed both indoors and outdoors for all children. Parent and child groups can take place both indoors and outdoors (however not in private homes) for up to 30 people (children under 5 are not counted in this number).
Where it is reasonably necessary for you to work in other people's homes you can continue to do so - this includes nannies.
As of the 8th March, all schools are now open and thus all students should attend (unless they are self-isolating). Free rapid lateral flow testing is now available for everyone in England. You can find more information on early years providers (including nurseries and childminders), schools and colleges during COVID-19 here.
You can find out more information concerning the current measures here.
Scotland:
Most of mainland Scotland and some islands are at level 2. Orkney, Shetland, Na h-Eileanan Siar, all islands in Highland (except Skye) and the Argyll and Bute islands of Coll, Colonsay, Erraid, Gometra, Iona, Islay, Jura, Mull, Oronsay, Tiree and Ulvaare are now at level 1. However, Glasgow City council area remains at level 3.
Some regions will move to level 1 or level 0 on the 5th June. You can read more about it here.
As of the 19th April, all pupils are back to school full-time. Regulated childcare, including breakfast and after-school clubs, can still continue.
The number of people you can meet with varies from level to level, and depends on whether you are meeting in- or outdoors. However for all levels, when meeting outdoors children under 12 years old do not count towards the total number of people or households counted in a gathering. Although when meeting indoors they do count towards the number of households – but not the number of people. Children under 12 are not required to maintain physical distance from others.
Nurseries, childminders and regulated school age childcare providers are open. Informal childcare, as well as hiring babysitters and nannies, is allowed. Although at higher levels it is not advised. The Parent Club is a recommended source from the Scottish government and is updated with commonly asked questions concerning childcare during the pandemic. You can also read more about the 'stay at home guidance' from the Scottish governmenthere.
In general, Scotland have introduced a 5-level system. You can find out what level your area is, and thus what regulations there are regarding each level, with this postcode checker on the Scottish government website. From level 0 to level 4, early learning and childcare can remain open, with protective measures in place. You can read more on the Scottish government website concerning guidance on early learning and childcare services and guidance on childminder services. From level 0 to level 3, informal childcare is permitted, but you should still follow the rules for socialising. However, at level 4 informal childcare is only permitted for essential workers. At this level it also states to follow the rules for socialising, and that only children should enter the home of another household. The Scottish government also recommends reading the Parent Club's FAQ page on COVID-19 and childcare.
Wales:
All of Wales is currently at alert level 2.
Schools, colleges and childcare providers may now open, including day care, childminding, crèche, out of school/holiday provision, etc. Nannies can also continue to provide childcare. Informal childcare is also permitted. It should be noted that kids should not be cared for outside of their home if they are ill, or by anyone who is ill. Adults who are dropping children off at childcare services must stay outside. The Welsh government have provided a FAQ page for questions concerning the current regulations (including topics on childcare).
Wales has introduced a 4-level system. You can read more about the different levels and the corresponding regulations here.
Northern Ireland:
Northern Ireland is currently easing coronavirus restrictions.
Currently, up to six people from two different households can meet indoors (this also includes overnight stays). Children aged 12 or under are not counted in this.
You can still form one bubble with one other household. It should be noted that the two households can be of any size, however, indoor meetings between the two households are limited to a maxiumum of 10 people (incl. children) at one time. Children whose parents live in separate households can also still move between the households as normal.
Childcare can continue to be provided by someone who is registered in accordance with the Children (Northern Ireland) Order 1995. Informal childcare arrangements are also permitted to continue at this time.
As of the 12th April, all pupils in Northern Ireland can now attend school in person. As of the 24th May schools can resume extra-curricular activities.
You can read the Northern Irish government website to find out more about what the restrictions mean for you. You can also read FAQ about NI Covid-19 restrictions provided by the BBC here.
Help from Babysits:
Furthermore, we have implemented a new feature: virtual babysitting. Virtual babysitting gives parents an hour to themselves. This is helpful for parents who work from home and who may need to focus on work-related tasks (or even parents who just need an hour to themselves!). Virtual babysitters entertain children with storytelling, educational activities, crafts, and games. It is a great alternative to other screen-related activities such as Netflix or Youtube.
For parents struggling with homeschooling their children as well as working from home, we have implemented online homework assistance. Parents can rest assured knowing that their children are getting the help they need with their schoolwork. Babysitters can indicate on their profile whether they are available for homework assistance and parents can filter their preferences accordingly while searching for the right babysitter for their family.
You are also now able to filter for volunteer babysitters. These are babysitters, nannies, and childminders who are willing to offer volunteer babysitting services during this difficult period.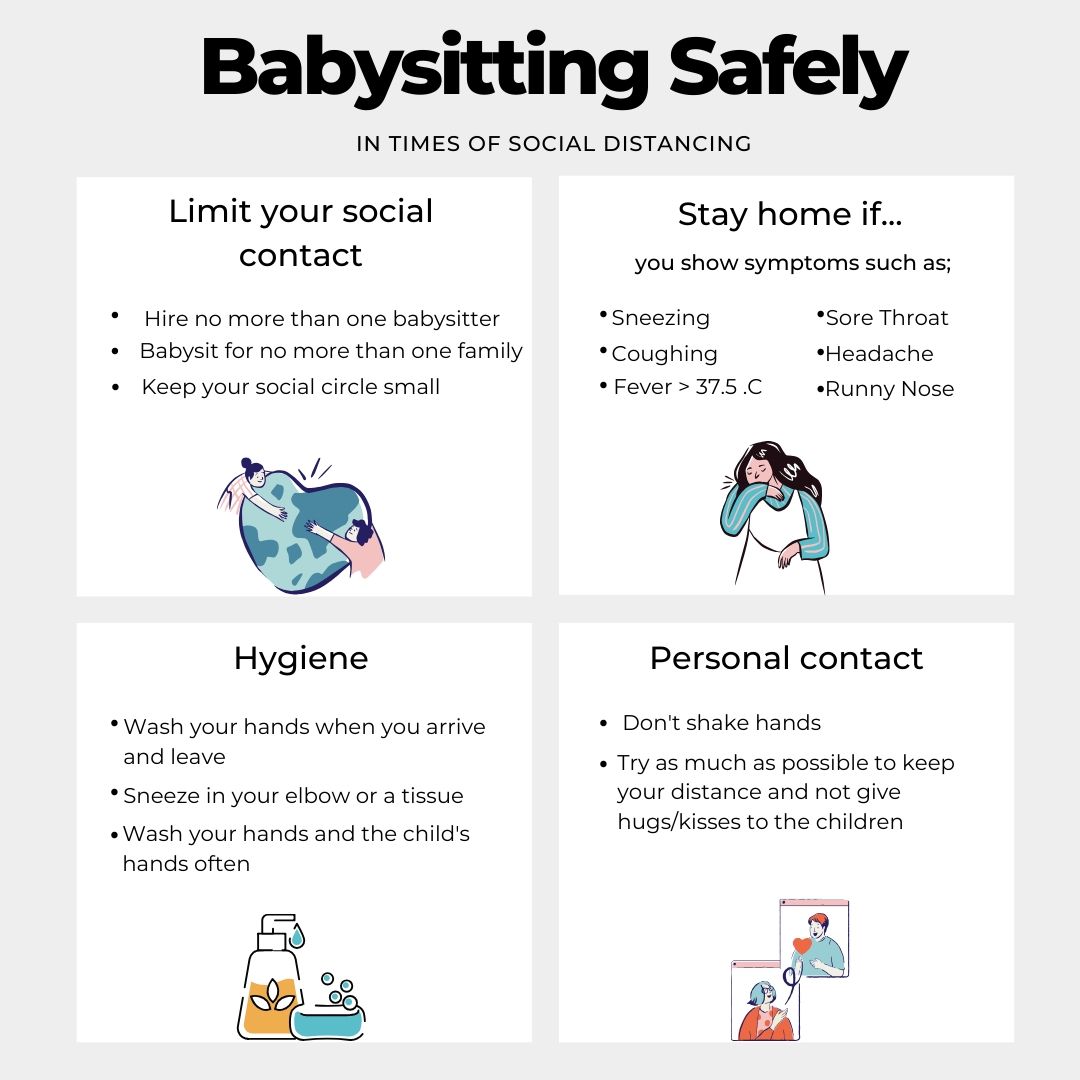 Do you want to know more about babysitting safely in times of social distancing or other things related to the corona virus? Find out more by checking out our articles below:
Tips and activities for staying at home
---
Are you trying to find a babysitter, childminder or nanny in your area? Check out babysitters in some of our top cities here: