Recycling Bin DIY for children
Are you looking for a fun way to explain recycling to your child(ren)? Then we have the perfect craft for you! You can have fun making this diy together with your kids while explaining what recycling is and why it is so important.
What is recycling?
Recycling is the reuse of materials. This is different from reusing products themselves. By reusing products themselves, you can think of for example repurposing an old t-shirt as a cleaning rag. When recycling on the other hand, we separate trash and so that old materials can be used to create new products.
The paper we recycle then becomes new paper or paper products and plastic we recycle is created into new plastic bottles and products. By doing this, we can make sure that fewer trees need to be cut down and less natural gas and oil is needed. This is really great for the environment!
Types of Recycling
There are several types of recycling and waste bins, such as: glass recycling, paper recycling, plastic recycling, green/yard waste, and general waste.
Glass recycling is meant specifically for glass. Make sure to remove the lids from glass bottles and containers that you recycle. Paper recycling is only meant for paper. So, make sure to remove any plastic that may be attached to the paper you recycle. Similarly, plastic recycling is meant for plastics only.
Sometimes there are bottle deposits on glass or plastic products. If you bring these to the supermarket or the correct dropoff location you can receive cash back, and recycle them this way!
Green and yard waste can include plants or weeds from the garden. But, it can also include fruit and vegetable waste that you don't eat (such as banana peels).
Create the recycling bin DIY
This do it yourself craft is suitable for kids of all ages, and is a fun and unique way to explain recycling to them. It is also a perfect project to do while babysitting!
In order to make this diy, you need:
Colored paper or cardboard
Scissors
Tape and/or glue
Pencil
A printer (optional)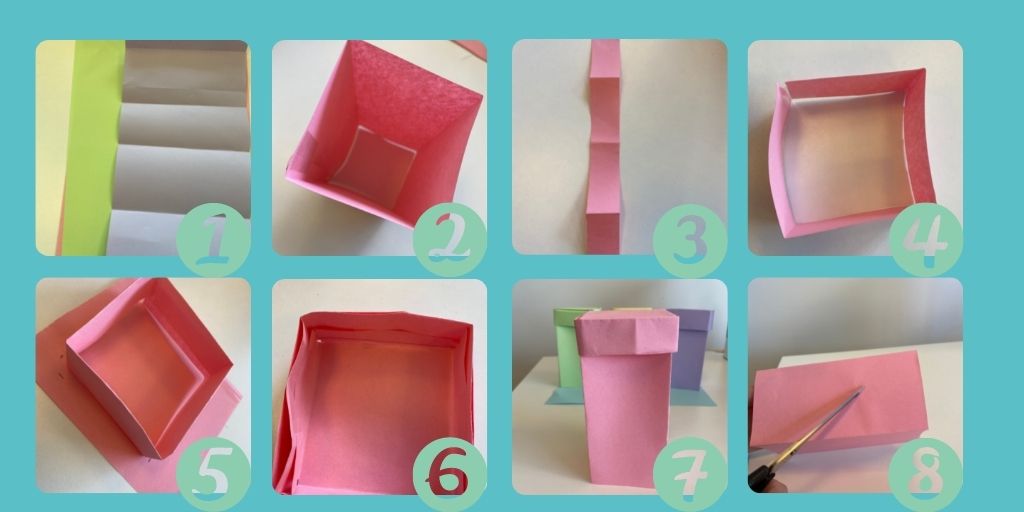 Step 1:
Decide how large you want your recycling bin to be and cut the colored paper so that it is the correct size.
Step 2:
Fold the paper into 4 equal parts, so that you can fold this into a square. Then secure it with some tape.
Step 3:
For the edge of the lid, we used the leftover paper that was cut during step one. You can fold this into four equal parts as well.
Step 4:
Fold this into a square and add tape on the inside so it sticks together.
Step 5:
Cut a square to fit on your lid. Lay the edge of the lid on a piece of paper and trace how large the square needs to be. Make sure that a piece sticks out so that you can tape or glue this on the inside.
Step 6:
Glue or tape the square to the edge of your lid.
Step 7:
Check if your lid fits well on your recycling bin, if it doesn't you can still adjust this.
Step 8:
Make the opening of your recycling bin. Do this by making a hole in the middle of your bin and cutting a square or rectangle out of this.
Step 9:
Print or draw a symbol for what type of recycling bin you've made (this can be paper, plastic, glass, or general waste) and things that you can throw into the bin. For example, this could be glass bottles or containers, paper boxes, or pizza. You can decorate it however you want so be creative!
Now, you can explain recycling to your kid in a fun way, how recycling bins work, and why it is important. Lay all of the things out in front of your child and let them put everything in the correct recycling bin. If they put an item in the wrong recycling bin you can explain to them why this isn't correct.
We hope that you and your child have a ton of fun making this DIY. Looking for other fun and informative crafts? Take a look at our climate action page and our do it yourself page for more inspiration!